The Oneness-Heart-Tears and Smiles worldwide humanitarian service was founded by an internationally renowned world leader and world server, Sri Chinmoy. We utilize the extensive resources of the international Sri Chinmoy Centre for our program base.
Born in 1931 in East Bengal, India—today's Bangladesh—Sri Chinmoy spent more than 20 years of his early life in a spiritual community in southern India. There he absorbed the teachings and tutelage of India's great wisdom and fostered his deep aspiration to be of service to humanity. In 1964 he voyaged to New York, where he has lived since that time.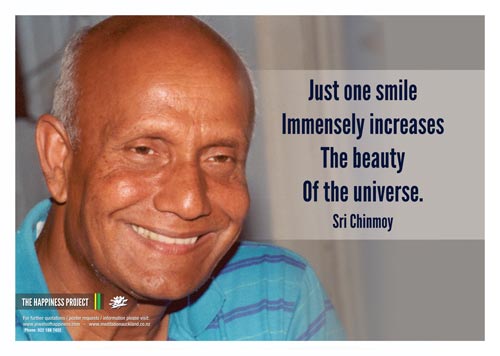 In the four decades since he has lived in America, Sri Chinmoy has forged one of the most notable life stories of our times. A prolific and widely popular author, artist and musician, he has inspired a new momentum for world harmony through over 700 global concerts; in cultural, humanitarian and spiritual programmes on six continents; in the publication of over 1500 books; and through a prodigious outpouring of acrylic paintings and artwork that has been displayed in galleries worldwide.
Since 1970, at the invitation of then United Nations Secretary-General U Thant, Sri Chinmoy has led twice-weekly silence at the United Nations Headquarters for delegates and staff of all faiths.
In 1987 he founded a global torch relay dedicated to world friendship and harmony – the popular biennial event now involves over one million children on six continents and forms the largest participation relay in history.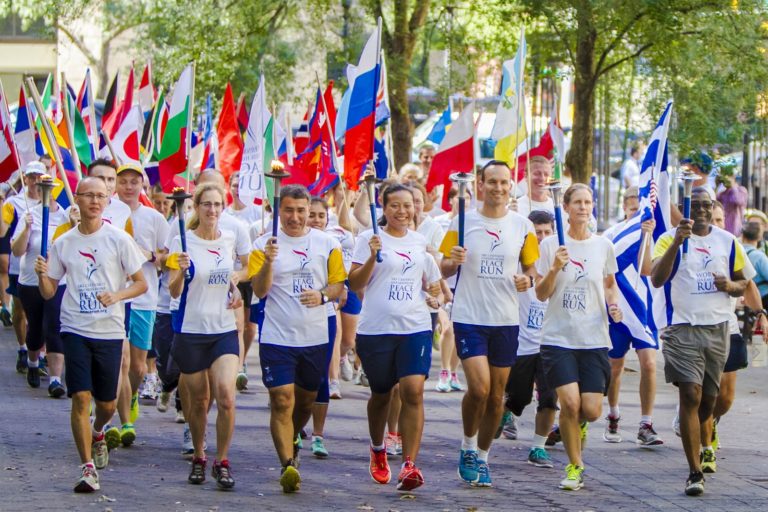 In recognition of his lifetime of service for world betterment, many significant awards have been conferred on Sri Chinmoy. These include the highest national awards from many nations, such as the Order of Balboa of Panama, the Presidential Medallion of Macedonia, the Mother Teresa Award, the Gold Papal Seals, UNESCO's Nehru Medallion, the Gandhi Peace Award, the Jesse Owens Humanitarian Award, plus awards from many universities including Cambridge, as well as several honorary degrees.
At the heart of Sri Chinmoy's lifetime of service is an unwavering belief both in the essential goodness of the human spirit and in a future when all the nations and peoples of the world will live in harmony, united by a sense of oneness, concern and love.
Sri Chinmoy first began encouraging the international Sri Chinmoy Centres to collect and distribute humanitarian aid in 1991, and offered this new initiative the name The Oneness-Heart-Tears and Smiles as an expression of our oneness with the sorrows and joys of those whom we serve. Today the program embraces a worldwide family of needy children and adults in 136 countries, with hundreds of volunteer workers.
For Sri Chinmoy service and self-offering arise not from a sense of duty or charity, but as a natural expression of a oneness-heart.
In his words;

"Now we are all exercising the love of power. But a day will come when this world of ours will be inundated with the power that loves. Only the power that loves can change the world."

"With our loving hearts, we identify and become one with what others are. This power that loves can solve world problems. This power is full of self-giving, not with a sense of sacrifice, but with the feeling of serving all humanity as our own brothers and sisters. Through both our loving silence and devoted service, we contribute to the betterment of the entire world."

Of The Oneness-Heart-Tears and Smiles Sri Chinmoy has stated:

"Our humanitarian service is not our self-motivated, condescending act of charity to the poor and needy. It is a gigantic opportunity to feed, nourish and strengthen our own poor brothers and sisters so that they can, side by side, march along with us to proclaim the world-oneness-victory of God the Creation."

For more on Sri Chinmoy, kindly visit:
www.srichinmoy.org