Our hearts are daily with the doctors and nurses in our hospitals who are working tirelessly to save Covid-19 patients. Listening to interviews with doctors and nurses, we noticed that they have mentioned the need on their units for more hope, especially, but also for courage, strength, endurance and cheerfulness – for the medical staff as well as the patients.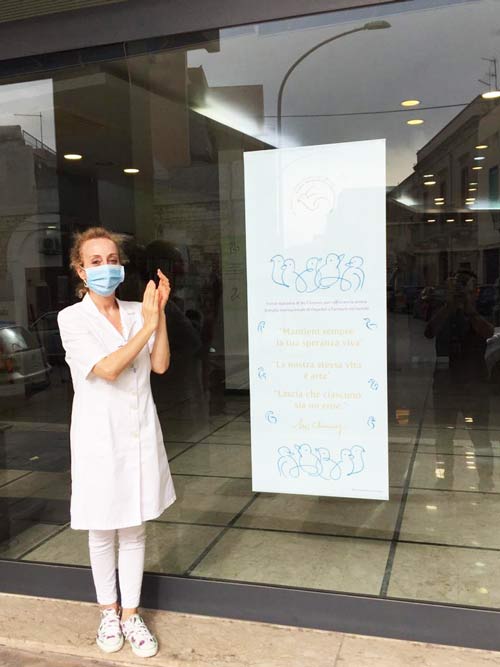 We have been sending to hospitals and related services, posters with "Thoughts for the Day" by Sri Chinmoy. As well as being the founder of the Oneness-Heart Tears and Smiles initiative, he was a prolific author and poet whose writings have inspired people all over the world.
We have prepared banners and posters of different sizes with haiku-like positive affirmations on such topics as Hope, Endurance, Cheerfulness, Positive thoughts, Courage, Compassion, Kindness – all of a universal nature.
Gabriella Alongi, a pharmacist in Trapani, Italy wrote to us to express the profound influence that these Thoughts for the Day have had on herself, her staff and customers.
The English translation of the inspiring Thoughts for the day banners are: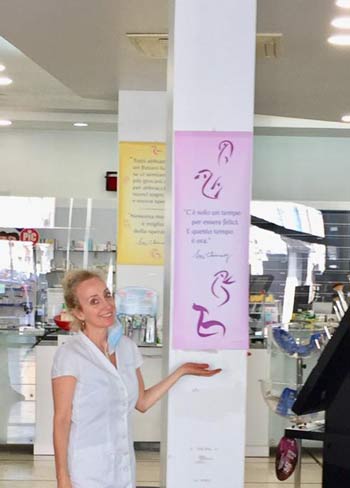 "A cheerful mind
Has always been a perfect guide
To a healthy body."

"Let everyone be a hero."

"Always keep your hope alive. "

"The very nature of kindness is to spread.
If you are kind to others,
Today they will be kind to you,
And tomorrow to somebody else."

"Wherever you go, carry happiness with you."

poems by Sri Chinmoy
Feedback
These are some of the comments from customers after reading the banners and choosing a poem card available free of charge to customers..
"Are these for us? Oh…then you love us.
"It's just the right message for me"
"I'm waiting for this message"
"They are so powerful, I will frame them"
" It did me a lot of good, Doctor, you cannot understand what they meant to me"
One person applauded spontaneously after reading them. The poems appreciated most by customers were those about hope, smiling, and endurance capacity.
Gabriella also stated that the display has had a profound effect on her own inner attitude and the behaviour of her employees. Gabriella said "we see how it could be important for us to know the effects of simple things like giving a card with an inspiring message or exposing a banner!"
We were so happy to learn of this positive response in our new initiative.