By Harashita (Tokyo)
The European Oneness-Heart-Tears and Smiles coordinator Abhisar from Czech Republic, a professional pantomimer Vlado from Slovakia, and 3 local staff (Akanda-from-Mongolia, Usra, and Harashita) paid a visit to northern Japan. During our two-day visit on July 11 & 12, we visited 6 schools and 1 shelter in 3 cities in Miyagi Prefecture: Ishinomaki, Minami-Sanriku, and Kesennuma, all of which were most seriously damaged by the tsunami back in March 11, 2011. Besides the Oneness-Heart-Tears and Smiles, we also gave the World Harmony Run program and offered posters of Sri Chinmoy's paintings on behalf of Jharna-Kala Foundation.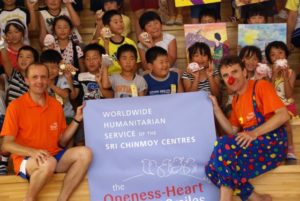 For this trip, various heart-warming gifts from several countries had arrived for Japanese children and they were given to almost 1000 children in total: Kids to Kids packages from Czech Republic, which consist of each sender-child's selection of a toy, stationary, his or her photo and personal message; multivitamin for children from a Czech pharmaceutical company Dacom Pharma in cute animal-shaped toys; message cards with wrist bands from children from elementary schools in New York; drawings and computer-graphic art from high school children in New York; and paintings from students of Vladivostok Art School, Russia. These gifts express the sender-children's love and concern for the recipient-children more than anything. We are deeply grateful to those international children who created these special gifts and sent them to us.
In Ishinomaki, we paid our grateful visit to Iinogawa Daiichi and Okawa Elementary Schools for the second time. This time we handed Kids to Kids packages and multivitamin for their 172 children to the principals of the two schools. Iinogawa Daiichi has been extremely kind to us and referred us to numerous other contacts, which made this trip possible.
Our first meeting with children was at Iriya Elementary School, Minami-Sanriku Town, approximately 30km north of Ishinomaki. The summer weather was in full swing, over 30C, and the gym was being used as a shelter, so our program was held in their mult-purpose room. The 104 children had a fun time with the team. It is so nice to see their smiles. The principal told us that for a whole month they did not have electricity and 10 teachers, who had lost their houses, had to live in school until they found housing. We were told we came at the right time as they had just started having running water only two weeks before. The event was aired on Miyagi TV(MMT) during the evening news on the 11th.
The team now drove to Kesennuma City, approximately 10km further north, our main destination this time.
The second program was at Minami-Kesennuma Elementary School, which is now housed at Kesennuma Elementary School as their own building had been severely damaged. Out of the 206 children, 80% had lost their homes because of the tsunami and they now commute from shelters and temporary housing. The school had also lost about 150 children as they had to move to other towns after losing their homes. Despite this extremely challenging situation, the children were full of energy and enthusiasm, and they responded to Vlado's performance with such zest and joy. Our gifts to them were Kids to Kids packages and multivitamin in cute animal toys. Two local newspapers came.
The gym of Kesennuma Elementary School is now a shelter, and we paid a visit there afterwards. About 60 people still live there even 4 months after the earthquake. All over Miyagi Prefecture, over 13,000 people still live in shelters (even after over 15,000 units of temporary housing were built). The environment is of course far from comfortable: having only low-height boards as partitions and a few tents as 'changing rooms' without air conditioning (and it is really hot and humid nowadays…!). Still, we could see the shelter was always in the process of improvement. We saw several volunteers working to organize and distribute donated goods, a mini library with donated books, and messages of support from all over the country were posted on the walls. As it was during the day, many were out, so we had a program with about 15 residents, mostly in their 60s. Vlado was successful here again to give them smiles and laughter with his humorous performance. We gave message cards and rubber bands from American children, and a few paintings by Russian children. They were eager to get extra message cards for their family members and neighbours who were out and could not make it to the program. As soon as the program ended, they found a board from somewhere and enthusiastically began figuring out how to put up the paintings.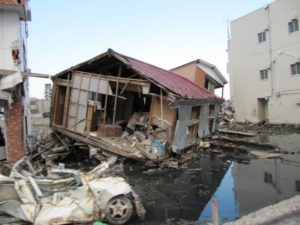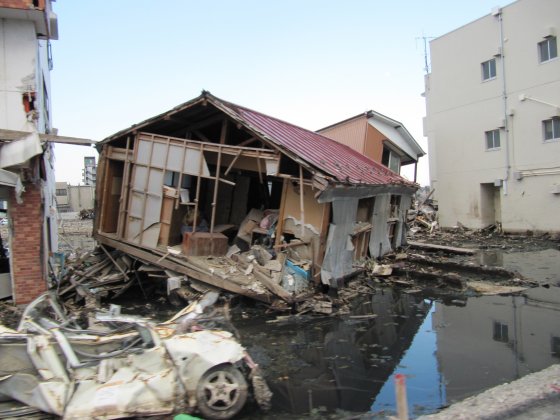 The second day, July 12, consisted of 3 school visits: Omose Elementary School with 415 children, Tsukidate Elementary School with 34 children, and Koizumi Junior High School with 46 children, all in Kesennuma City. At Omose Elementary, homes of 80 children were washed away and 2 children lost their parents. Yet, the students responded with joy and enthusiasm. Tsukidate Elementary is right above the Volunteers' Camp Village, where we spent the night. Both national and international volunteers from all walks of life who come to Kesennuma City can stay here for free if you bring your own tent, sleeping bag, and food (you need to check in first at the office in town). Lastly, Koizumi Junior High is located up on the hill, looking down a bay where tsunami hit severely. Close to 70% of the children lost their homes, commuting from a shelter or temporary housing. We could see newly built temporary housing in part of the school track, and were told that it is common to have a family of 7 to have only 2 rooms in those units, and that is actually not bad compared to others. Again, the students were sweet and intently participated in our presentation. After our program, the vice-principal gave us an A4 sized photo message card saying "We Are Fine." He said that after the quake, they have received so many goods and other support, they created this photo message card (with the students' smiling photos) to send back to the donors.
All in all, we went to those towns to offer something to them, but instead, the children and adults there gave us new hope and energy. We could see that both the children and teachers were really doing their best to move forward, to do school activities as normal as possible. In Kesennuma, where we had a chance to spend more time than in the other cities, it seemed everyone, both locals and out-of-town volunteers, were doing their best in a most self-giving and unique manner to rebuild the city. For example, the main road had continuous traffic jam because there were so many trucks from all over the country carrying the debris to the dump site again and again. At the Volunteers' Camp Village, we saw a little outdoor kitchen created with all sorts of equipment donated by past volunteers. A volunteer from Kyoto was creating an outdoor shower using a very simple solar power system. A local gentleman, Mr. Tamura, one of the main caretakers of the Village, was a master of soba-noodle making, and offered us freshly made soba for lunch. It was extremely delicious. How is it possible to go to some of the most severely damaged areas, passing by debris, destroyed cars and buildings, yet to feel like we were surrounded by some of the most beautiful things in the world: and those are people's courage, strength, determination, and children's bright smiles. We also had a memorable camping experience up in the mountain with heartfelt hospitality. Thus, I end this report with our deep gratitude to all people in Kesennuma, Minami-Sanriku, and Ishinomaki we encountered for giving us the opportunity to serve them in this small way, and for giving us so much in return.